Engineering & Construction Pitfalls of Pool Enclosures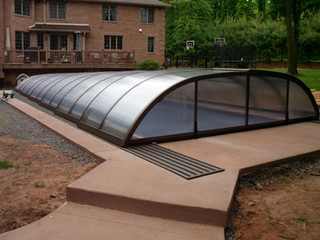 Let's face it: depending on where you live, typically you have invested in a swimming pool that you can only use three to four months out of the year. Instead of only using your swimming pool when Mother Nature allows, you can take control and prolong its use to a full twelve months with a custom pool enclosure.
Although purchasing a standard swimming pool cover might seem like the least costly option, a pool enclosure is worth the extra cash. Aside from the ability to use your pool year round, a pool enclosure also offers additional safety for your children or pets; a fence can only do so much.
When it comes to choosing a pool enclosure, you want to be sure that you are getting what you are paying for. A lower cost for a product usually means lesser quality. You want to be sure to avoid engineering mishaps that will be more costly for you down the road not to mention you want to look for appearance, product uniqueness, excellent quality, reliability, design innovation and ease of use.
Unlike most other manufacturers, our quality engineering offers the following benefits:
Our units are designed to withstand strong winds and heavy snow loads.
Open and close the enclosure with ease.
Only one person is needed to slide the sections of the enclosure open and closed. The sections do not "rack" or get stuck when you are pushing them.
Reinforced structure of sections for the front walls.
A triple flap rubber seal system between segments, to protect from outside elements.
Handicap accessible door.
Walk on the tracks in your bare feet.
The tracks on each enclosure are only 5/8" high, slip resistant and meant to be walked on so you avoid tripping or catching your foot.
Enclosure is fully lockable.
Aluminum wheels that glide on an aluminum track.
A reliable and durable way of sealing the polycarbonate panels in the aluminum structure.
Elegant hidden solution of technological joints.
Snap out track to go over skimmer.


If you're ready to install a pool enclosure, contact us or request a quote today.