New Era for Sunrooms: New Materials, New Construction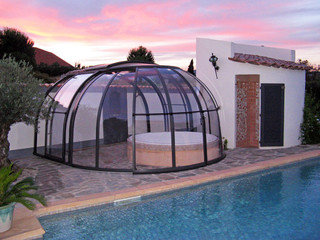 Dark frames used on hot tub enclosure OASIS
Insulated floors and roofs, sliding windows and doors with screens, and more – today's sunrooms are much more advanced than sunrooms from the 70s and 80s.
Sunrooms from those decades were commonly made with single pane glass and aluminum. They had glass-roofed structures that were not efficient, and in our opinion, were not very pleasing to the eye. Homeowners typically purchased sunrooms to expand square footage of their home, which they could add onto an existing concrete slab. In the winter, they got cold. In the summer, too hot and they could not be opened and enjoyed. Many homeowners of the 70s and 80s used sunrooms mostly for storage.
Many homeowners today are purchasing sunrooms for entertainment purposes. They are using them as a place to host gatherings with family, friends and as a place to conduct hobbies such as exercising, reading and painting. Sunrooms are now made better and are more attractive in appearance and the uses are extended to indoor and outdoor use. Now, a retractable enclosure can be opened and enjoyed when it's sunny. Use it for barbeques, picnics, and more. On colder days, admire the great outdoors while sitting comfortably in your enclosed space. You can also read more about our 8 Great Sunroom Activities on our Blog.
| | |
| --- | --- |
| Sunrooms Back Then | Sunrooms Now |
| Source: Temo Sunrooms | |
| Source: The Board Store | |
Our modern sunrooms are made with:
Durable aluminum framework and polycarbonate, which is 200x stronger than glass.
Twin wall polycarbonate, which have 15 percent better thermal efficiency than a single pane. They retain heat, unlike sunrooms in the 70s.
Stainless steel.
Compact – a solid pane polycarbonate material that is transparent. Also available in tinted.
Polycarbonate is UV protection – the sun's harmful rays are kept out and furniture is protected from fading.
At Pool&Spa Enclosures, we feel that polycarbonate is better than glass. Not only is it stronger, has better thermal efficiency, and UV protection, but because it's stronger it won't shutter. Polycarbonate is also lightweight, making sunrooms built with it a lot easier and faster to put together than sunrooms made out of glass. Not to mention, polycarbonate is flame resistant.
For those who prefer, we still offer single pane safety glass aluminum enclosure options.