Advantages & Benefits of Pool & Spa Enclosures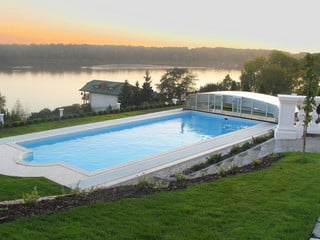 Fully retractable swimming pool enclosure OCEANIC by Alukov
Have a relaxing, private, secure, cleaner experience if you choose to enclose your pool using one of the many pool enclosure types.
Enjoyment
Our pool enclosures allow you to extend your season or swim year round.
Slide the retractable enclosure behind the pool and enjoy swimming in the open air.
Time saving and lowered frequency of cleaning your swimming pool or patio area.
Reduction in frequency of checking water due to improvement of water quality.
Reduction of required water treatment chemicals.
Reduced temperature fluctuations of pool water overnight.
Easy travel of segments along the low laying tracks.
Reduction in evaporation loss.
Capturing of heat resulting from solar radiation or from additional heating of water and prevention of thermal losses.
Free-of-charge and environmentally-friendly water heating; High solar efficiency results in lower costs of heating.
No need for opening and closing your swimming pool or spa each season.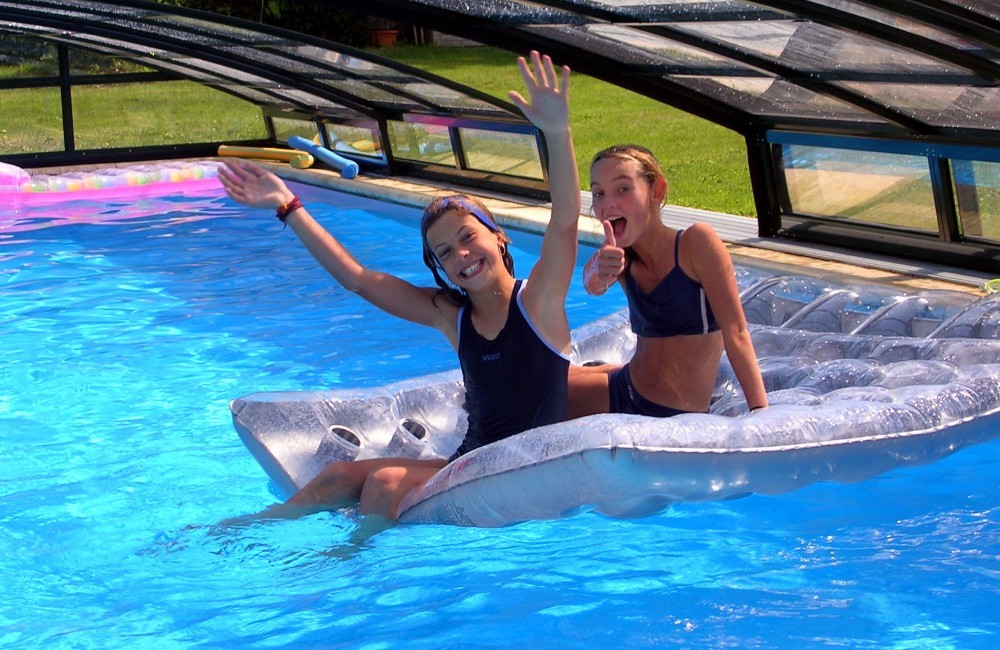 Reliability
A reliable and durable way of sealing of polycarbonate boards in the aluminum structure.
Reinforced structure of the front walls.
Option of combining 8 mm honeycomb polycarbonate with compact 4 mm polycarbonate.
Reduced weather damage to swimming pool or spa.
10 year limited warranty on aluminum frame and polycarbonate panels.
Comprehensive customer care, pre-sale and after-sale service.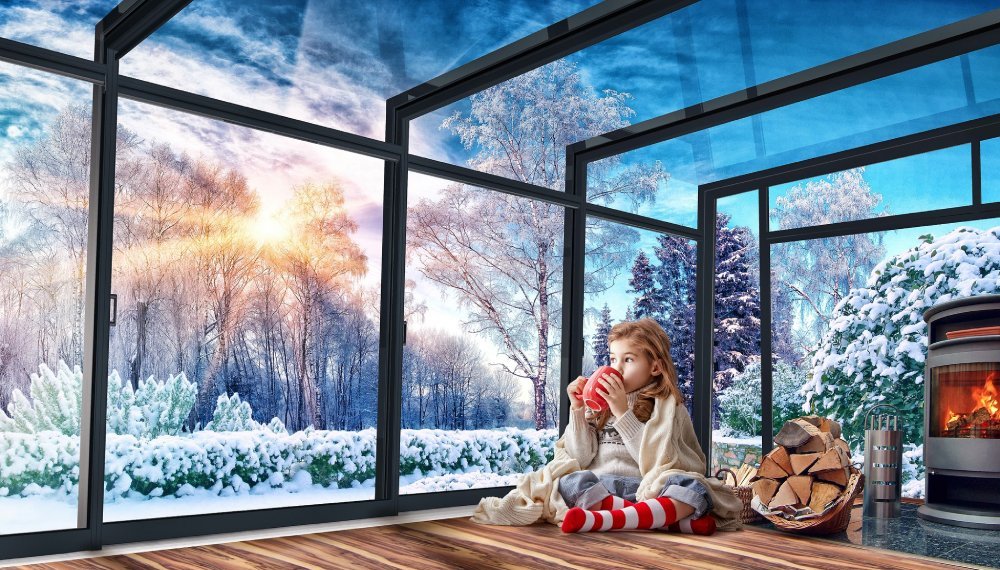 Aesthetics
Customized retractable swimming pool, spa, and patio enclosures.
Aluminum frame available in a range of colors.
Range of colors and types of polycarbonate panels.
Elegant hidden solution of technological joints.
Clean and professional workmanship of products.
Durable aluminum framework and polycarbonate retain their characteristics for years.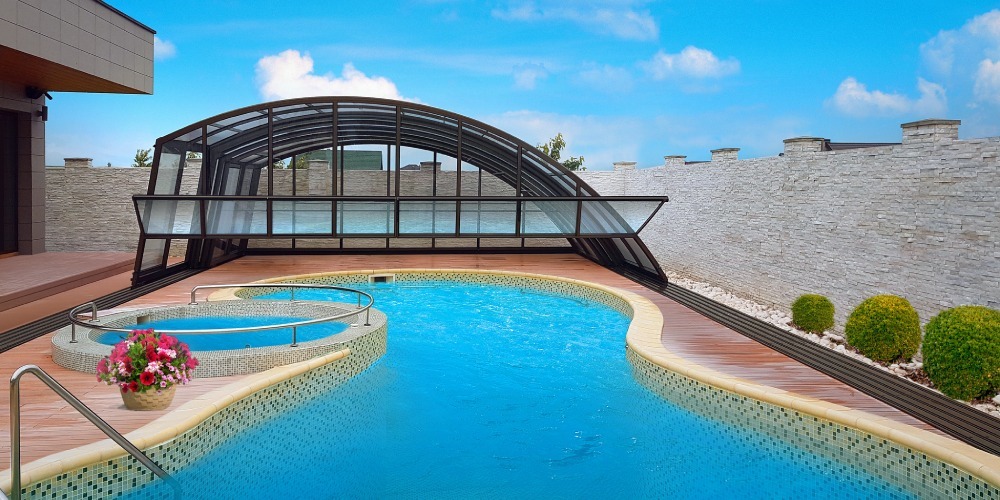 Safety
Protection against children or pets falling in water.
Designed to withstand wind and snow load requirements.
Childproof locking system.
Blocking of harmful UV radiation by polycarbonate panels.
A proven system of flat, low laying, and slip resistant tracks.

Added Value
The polycarbonate panels act like a greenhouse. Direct exposure to the sun's rays or, on cloudy days, the effect of diffused rays warms the air within the enclosure. At night or on cooler days the heat of the enclosed atmosphere is gradually lost.
At the start of the season the water temperature in an unheated pool rises a bit each day when exposed to direct sunlight.
The water temperature also rises on cloudy days even when there is no direct sun.
Evaporation of water from the pool leads to loss of heat. Depending on the temperature difference between the water and the air, many gallons of water may be lost each day. With an enclosure, the water surface is isolated from the external atmosphere, which slows down the evaporation from the pool (technically speaking, the thermal gradient is decreased). This saves money by using less water and less heat.
An effective additional method of reducing water evaporation is to spread a solar bubble or foam covers over the water surface. Solar bubbles directly exposed to sun and frost are not durable and become dirty easily. But when they are used under an enclosure they perform their function very well. The combination of a bubble or a foam enclosure is a highly successful way of reducing water heating costs.
The use of a suitable heat retention cover is strongly recommended to reduce evaporation, which is the cause of condensation.
If you get too warm inside, just slide the movable segments back and in a few moments you will be swimming in the open air.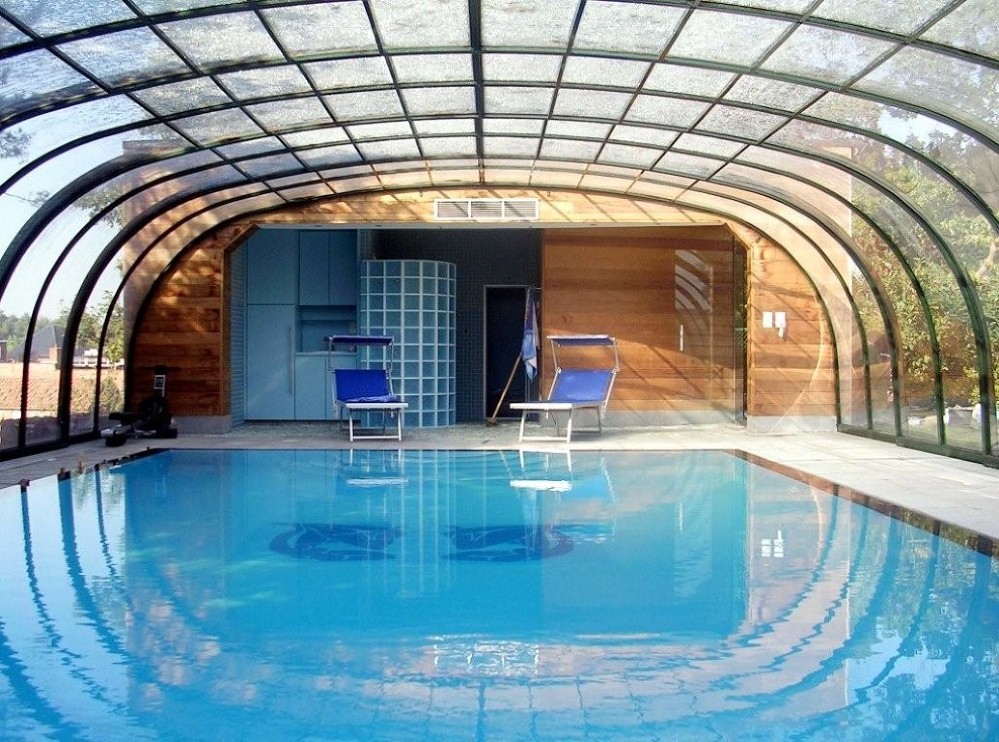 Benefits of a Pool Enclosure
There are numerous benefits to having a pool enclosure. In addition to the convenience of being able to use your pool all year, there is also added privacy and protection from debris. These reasons make it a great addition to any pool.
Debris can be an annoyance to remove from your pool. It can take an hour or more to scoop leaves, dirt, and other things that may have blown into your pool, especially if you have a large pool. If your pool were enclosed, you would spend less time cleaning debris. You will also use much less chemicals since your pool with remain cleaner and clearer for longer periods of time. Less debris means less chemicals in your pool.
Another advantage of having an enclosed pool is an added layer of security to your home. Many enclosures include a lockable gate or door. This can keep intruders, as well as unwanted wildlife from entering onto your property. Keep your children safe with an enclosure as well. You may want to install an audible alarm on your gate to stay informed of entry or exit to your pool. Keep little ones safe from drowning by researching pool enclosures.
If privacy is an issue, pool enclosures would be ideal. Have confidence that you are swimming without unwanted onlookers. For custom pool enclosures give us a call today at: (609) 655-8898.
"Like" us on Facebook for pool and spa care tips, photos, specials and more!