Garrett W., Pennsylvania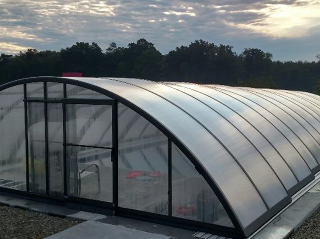 Swimming pool enclosure Universe NEO
Bought pool enclosure Universe
"My wife, daughter, and I absolutely love our new Universe Type IV swimming pool enclosure."
I received our new enclosure by tractor trailer in early August and my dad & I did the install using both the instructions provided, as well as the You Tube video provided by Alex. Both Alex and Christine were fantastic to work with from initial conversations through the planning stages, delivery, and installation.
As I was installing the new pool, Alex provided me invaluable information to ensure placement of the new enclosure and concrete specs to follow for ideal install. Prior to Alex, I spent several days researching different pool structures for my new inground pool and found a lot of different and inferior products out on the market. That is not the case for Pool & Spa Enclosures, LLC. They are a top-notch company and I would give them a 5-star rating.
They provided excellent customer service. We had couple minor issues that were quickly corrected with one email to Alex and Christine. The key was missing for the door and one of the panels had a gouge in it from delivery. They wanted to ensure I was 100% satisfied with my purchase. They sent two guys out along with a replacement piece of polycarbonate and replaced the damaged panel. They were very quick and professional and did a fantastic job. I would be happy to speak to anyone about my experience and can answer any questions you may have. Alex can provide you with my email if you would like to talk to someone firsthand.
We are extremely satisfied and we feel very spoiled. My neighbors are jealous. I know that we could not live without it. It provides security for my daughter and our pets from not entering the pool area unattended, as we keep the sliding door locked. It provides superior UV protection from the sun, keeps the pool in the high 80's and low 90's all season long, and protection from wind and rain. We live in northwestern PA where we get all 4 seasons with a lot of snow.
It has easily extended our pool season by several months. Around here, folks open the pools at Memorial Day and close on Labor Day. I plan to open mine in March and close in November, like I did this year. I'm only closing it for the three coldest months of the year. The enclosure opens and rolls down the tracks very easily and with little effort, however my wife and I never want to open it. It keeps all the insects and bugs out and we enjoy the additional heat. If it gets too hot, we leave the glass door open and close the screen door (fyi.. it was worth the purchase of adding that screen door).
It's awesome to walk right into pool, no pool cover to fight with, no worms or bugs to remove, no hassle. I went from cleaning my pool from once or twice a week to once every two months or so. You will not be disappointed! Just give Alex a call…