Dmitry and Anna, NJ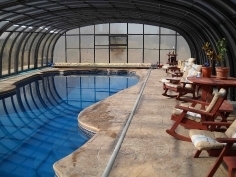 "In the fall of 2010 we have started a project which involved installation a new 18*43 freeform fiberglass pool, 30*56 retractable pool enclosure by Pool and Spa Enclosures, a large stamped concrete deck, pole lighting, etc..Our process of selecting the retractable pool enclosures was ultimately narrowed down to two companies, both manufacturing their product overseas. We have no regrets in choosing Pool and Spa Enclosures for this project – we loved both our enclosure and the quality of work done.
Alex from Pool and Spa Enclosures worked closely with us to have this project become reality. Besides the main 30*56 retractable enclosure (Laguna model), they also installed a smaller "breezeway", 11*16, which allows us to get from the house into the pool enclosure without getting outside, and which houses the pool equipment and will also have shower and changing room.
Alex has worked with us on the blueprints of this installation, making the necessary changes and often providing good adviec when we were getting into a dead-end. He kept us updated on the delivery timelines and the enclosure was delivered to us on the day promised. The installation team did everything quickly, also within the estimated time. Alex was always available to communicate over the phone, and when we had to have a "conference" of several teams involved in the construction, to resolve a few difficult points, Alex was there as well, before and during the enclosure installation.
It's been four months since the pool and the enclosure were installed, and we have been using the pool almost every day through winter and early spring. When the sun was out in the middle of the day during the winter, the temperature in the enclosure was about 90 degrees, so we only needed to heat the water. Our kids love it, and our friends are coming to us every time the sun is out!
Overall we were very happy with the quality of our enclosure and of the work Alex's company did. We had a couple of service calls after the install, related to the rubber seal between the sections, and the brush seals at the bottom having some gaps. Both issues were resolved on time, and to our full satisfaction. So I'd say both the original install and the support after the installation was excellent. While the installation process was not flawless, as this was a complicated install, and it is very rare for everything to be 100% correct right away, the most important thing for us was that the issues encountered were resolved without much ado, in an efficient way.
Although we are generally very demanding and very hard to please, we will not hesitate recommending Alex and Pool and Spa Enclosures to our friends and family, and to anyone thinking about installation of the retractable pool enclosure.
Thank you, Alex and Pool and Spa Enclosures, for the job well done."