Dennis and Gay, Maine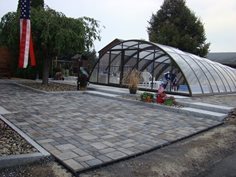 "Our enclosure was one of the best purchases we've made. We talked for years about buying a second home in Florida and could never quite agree due to the fact I don't want to be away from my family for anything longer than 2-3 weeks and we're not quite ready for retirement. We own two businesses and it's difficult to get away even for a three day weekend at times, one of the reasons we installed an inground pool in 1979 (now a new Fiberglas pool!). Dennis did do a lot of research (a couple years' worth) on different types and styles of enclosures. Once we finally decided on Pool and Spa Enclosures, Alex suggested we take a ride to Massachusetts to see one of your enclosures already installed, so we did. We spoke to the homeowners son who told us how impressed the family was with the quality of the enclosure, the "crew" that performed the installation and the ease of how it works. We had a few hours ride back to Maine and discussed the enclosure at length. We were impressed the actual enclosure really was as good as it looks in the brochure. We were both a bit leery to do business with someone with whom we've had only telephone conversations, so it was a great idea for us to see it in person and talk with the homeowner (on the telephone). We're talking a substantial amount of money (for us, anyway) which was required just to place the order – and we understand why it's done that way, as each enclosure is made to fit your own area – special order. Dennis finally called Alex and the rest is now history. Our home is only a stone's throw from our office. We get a lot of "what is that dome thing?" and "can we look at it?". We've shown our enclosure to so many folks we've lost track. The ease at which it moves, how clean the pool itself stays, everything about the enclosure is as good or better than advertised."
Update: "Another storm headed our way. Enclosure is holding up fine. We just got over 27" of snow and another 12-18" in the forecast. Thought you'd like to see this. See photos below."