Why Get a Pool Enclosure? [Autumn Edition]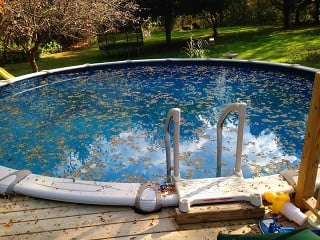 Leafs in pool
I hate to be the bearer of bad news, but summer is coming to a close. Before you know it, autumn will be here in all its glory. Soon it will be time for Halloween candy, pumpkin spice everything, red and yellow leaves, and swimming. That is not a typo! With a pool enclosure, you can enjoy your swimming pool long after the long summer days are over!
Keep the out the chill!
One of the tell-tale signs of autumn is that tinge of cold in the morning. Don't let that chill reach your pool. With an enclosure, your pool can soak up the sun during the day and retain that heat throughout the cold night. Our polycarbonate filling creates a "Greenhouse Effect" that can keep the water in your pool at 88 degrees Fahrenheit in the dead of winter! So a little autumn chill is no problem. That means that you can swim throughout the year and get more splash time for your money.
Leaves, leave my pool alone!
The most beautiful part of autumn can also be the peskiest – those gorgeous falling leaves. Yes, they create a sense of nostalgia and romance as you watch them drop from your breakfast nook, but you know what isn't beautiful? A swimming pool filled with soggy, brown, dead leaves! Solve that problem before it arises with a trusty pool enclosure. Put on your swimsuit, slide the enclosure doors shut, and watch the leaves fall on the other side of the glass from your pristine, leaf-free pool!
So just because we're entering pumpkin season, doesn't mean that pool season has to end! If you have a pool or are looking to buy one, get a pool enclosure quote today!