WHICH ENCLOSURE SIZE IS RIGHT FOR ME?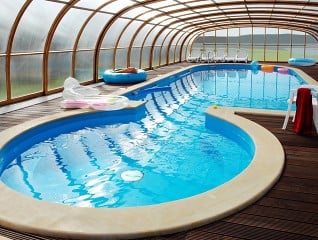 High line pool enclosure Laguna
Choosing any permanent structure to add to your yard is big deal and pool enclosures are no exception! Is it going to get in the way? Will I be able to walk underneath it? Will it block my view of my beautiful flower beds? There are so many things to consider, but don't you worry. We're here to go over our three custom enclosure sizes with you and help you choose the perfect enclosure for your outdoor space.
These are your elegant, subtle, streamlined enclosures. They provide all the protection of our high pool enclosures but without any bulk. You can look out over your lawn with an unobstructed view and enjoy every corner thanks to these low structures. They are roughly waist-high (with the exception of our Terra model) to give you enough space to swim underneath without feelings claustrophobic. And don't worry about having to bend over to lift anything because all of these enclosures have lockable sliding panels for easy handling. Bad weather? These will keep you covered! Good weather? Slide that baby off and enjoy some sun!
Pros: Keep the view of your lawn unobstructed while enjoying full coverage of your swimming pool!
Cons: Not the best for water volleyball enthusiasts when the enclosure is on fully.
If you like the idea of keeping your enclosure pretty low key but want some extra space to stretch out in and around your pool, the middle line is for you! They are just about as tall as the average person to give you plenty of room play water games or prop up a lawn chair underneath while not taking up your entire backyard. You get the best of both worlds! And if it is a particularly nice day and you don't want to be underneath the enclosure, the entire structure can telescope to the side to give you an open-air swimming experience.
Pros: More room to splash and play in the pool without giving up too much yard space.
Cons: While it's spacious, you can't comfortably stand up in these models.
Go big or go home! These are the pool covers that are so much more than just an enclosure. Thanks to the large size of our high line enclosures, you can turn your pool into a fully covered entertaining space. It can hold furniture and allows you to walk comfortably around inside the space. If you need some sun, the sliding panels of the enclosure can quickly and easily be retracted for uncovered swimming. The durability of these enclosures also make them great for storage of patio furniture during winter months or storms!
Pros: Just imagine hosting friends and family pool side in any weather year-round…
Cons: These are big! If a view of your garden is precious, keep that in mind.