Types of Enclosures for Year-Round Pool Use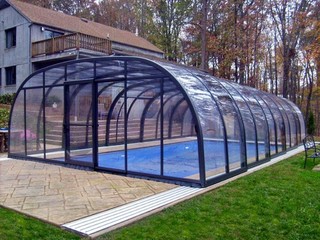 Would you not love to use your pool year-round? One minute you're having a rough day at work, and the next minute you're taking a dip in a warm pool with a drink in hand, despite there being snow on the ground.
We sure would! You really would not be able to do that if you only put a winter cover on your swimming pool. If you want to be able to enjoy your pool in all types of weather, you'd need the proper pool enclosure.
At Pool and Spa Enclosures, all of our enclosures are built for year-round use. As we noted in our FAQs, the polycarbonate panels in the enclosures provide good insulation properties by allowing the sun's rays to shine through creating a "greenhouse effect". Each enclosure's frame has a vinyl sweep. The sweep helps seal in warm air while keeping drafts out. In doing this, a warm enclosed environment is created and the amount of heat that gets out is minimal.
We recommend high or medium enclosures designs for year-round use, such as the following featured enclosures.
| | |
| --- | --- |
| | This enclosure is ideal for a pool that is in close proximity to the house. Doors, windows with screens are all an added benefit. |
| | If you like to entertain, you should check out this enclosure. There's plenty of room for people to move freely under it. How fun it would be to have a holiday pool party when there is falling snow around you. Untraditional, but could be interesting! |
| | This enclosure is particularly popular because it offers a high degree of insulation that improves heat retention. |
Pool owners from all over the United States come to us needing an enclosure that will allow them to use their pool year-round. Here's what some of our customers had to say about the enclosures purchased from us, as written on YellowPages.com
"We love our new pool and enclosure! We have used it everyday since the enclosure was installed, even when it was hailing and snowing! The enclosure itself is so well made, easy to use, and the talk of all our friends! When we swim at night it glows like some kind of UFO. Beautiful! I must say that Alex was so easy to work with, friendly, and honest. When we were promised dates and details, he delivered promptly and accurately! We would highly recommend Pool and Spa Enclosures, LLC for a high quality and reliable product that ensures your pool investment is enhanced!" – Cynthia
"I installed a Universe Enclosure over an Endless Pool. Yesterday it was 29 degrees outside with 25mph winds (gusting to 42mph) but it was sunny so it was 86 degrees in my enclosure. The enclosures are great and the company went above and beyond to make sure that everything was perfect from before I ordered until after everything was installed. I wouldn't hesitate to call them again if I needed an enclosure." – Jeff
For more enclosure designs, please check out our Custom Pool Enclosure Types.