The Best Time to Get a Pool Enclosure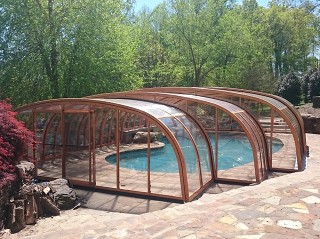 Atypical swimming pool enclosure Laguna
We're always saying that the best time to get a pool enclosure is NOW and with our customizable enclosures, and there is no wrong time to get an enclosure on your pool.
We can make it work for any pool no matter the shape or size. There is, however, a specific point to pick out an enclosure that can save money and hassle. And that time is….when you are picking out your pool!
When you plan ahead, you can utilize your space to its fullest potential!
Get the fit you want
You wouldn't buy a couch without looking at your living room, would you? So why buy a pool and then get the enclosure later? You want to plan out your enclosure, deck and pool so that everything fits all in perfect harmony. Ideally you want to pick the enclosure size, then fit the pool inside the enclosure. Doing it this way, can ensure that you avoid retrofitting the enclosure over an existing pool, stay in budget and gives you the option for one of our standard models instead of a custom enclosure.
Design your pool space to fit everything you want!
Make it easy on yourself
You can make sure that your pool fits just the way you envision it and fit all your storage, and furniture without having to make it work after your pool is already installed. It's easy to pick a pool and enclosure that fit nicely together, it's not so easy to move a pool or enclosure to get them the way you want it after they're built.
Don't worry, our enclosures are customizable and we can make anything work for you and your pool.
No surprises
Another benefit of talking to us before installing your pool is that we can show you exactly where the enclosure will go and how it will fit into your space. That way, you can avoid any surprises with structural placements. We are very flexible and can make an enclosure work in almost any space, but it's always nice to know what you're going to end up with when adding an enclosure to your yard.
So if one of your New Year's Resolutions is to be able to swim in your own backyard, give us a call and let's get you a free quote on the perfect pool enclosure to keep your new pool as clean and safe as possible.
If you do already have a pool and want to add an enclosure, we can help you, too! Like we said, there is no wrong time to add an enclosure to your pool!
Get a FREE quote today and we'll get you the perfect enclosure for your pool.