Choosing a Swimming Pool Enclosure: Advantages of Various Designs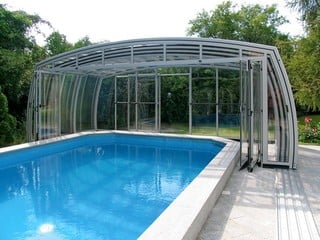 Fully retracted pool enclosure OMEGA
You're tired of only being able to enjoy your inground pool in good weather. Get ready to start enjoying it year-round with a retractable pool enclosure. Now you're asking yourself: "What's the best pool enclosure for me? How do I choose one?"
Once many homeowners make the decision to purchase a pool enclosure, they're often unsure where to begin. After you've established a budget, get started in your search by first understanding the advantages of the various types of enclosures. We also invite you to read how to easily transform any outdoor pool to an indoor pool.
Type

Advantages

Allows users to easily view their landscaping and area surrounding the enclosure without obstructing views.
Is tall enough so that users can swim inside a fully covered pool.

A good compromise between low and high height enclosures, the medium height design allows not only for swimming inside a fully covered pool but also for free movement in the central part of the roofed enclosure.

Offers users high vertical walls creating spacious areas to move freely throughout the entire enclosed area.

Five standard sizes are available to fit various pool sizes.
Offers an attractive arched shape.
Quick and easy to install as enclosure is shipped fully built.
Extended tracks allow you to move the enclosure completely off and away from your pool or deck area.
Same great quality as our custom enclosures, priced right for most budgets.
Now that you understand the main advantages of our four most popular design types of inground swimming pool enclosures, you can make a more informed purchase as our diversity of models and product uniqueness are characterized by excellent quality, reliability, design innovation and ease of use.
For additional information, contact us. We'll be happy to work with you one-on-one to learn more about your needs and help you find the perfect enclosure model for your landscape surroundings and budget.