Swimming Pool Covers Guide: Pool Covers vs. Pool Enclosures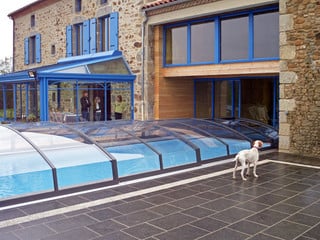 Retractable pool enclosure IMPERIA
Your pool is an investment – one investment that can and should be protected. Which type of pool cover is for you?
That depends on the type of pool you have and what you want to protect your pool from. Retractable Pool enclosures offer all the same benefits of pool covers, plus much more. Pool enclosures give you the flexibility to swim year round and present a more elegant, versatile option to pool covers.
Type

Pros

Cons

Inground and Above Ground Pool Covers

Keeps the water cleaner especially in the fall, by keeping leaves and debris out.

Are not always sturdy enough to protect animals and people from falling in.
Protect pools from harsh weather but won't allow swimming during all types of weather .
Don't always protect the pool from the sun.
Do not regulate pool temperatures.
Still need to clean off cover before you roll up.
Electrical and mechanical issues, motor and cover.
Cover needs to be replaced every 5 -7 yrs.

Safety Pool Covers

Prevent children and animals from falling in. Safety pool covers are secured to the ground so that they don't blow off.
Protects pool in the off-season from leaves/sticks falling through mesh.

Won't allow swimming in the off-season.
Does not regulate water temperature.
Mesh Safety Cover allows debris through.
Need to monitor pump to take off water from cover.

Solar Pool Covers

Keep water warm by capturing heat from the sun.
Protect pools from the harmful rays of the sun.
Limits water evaporation.

Cannot stop a person from falling into an unattended pool.
Are lightweight and are not designed as the kind of pool cover that can block out virtually all debris.
Will rip and needs to be replaced.

Pool Enclosures (General)

Allows you to enjoy your pool throughout the year even in the often unpredictable conditions of spring summer or autumn.
Polycarbonate panels protect your skin from harmful UV radiation, high clarity light transmission.
Reduced cleaning costs by keeping dirt, leaves and debris out of the pool.
Better water quality and reduced amounts of water treatment chemicals.
High solar efficiency results in lower costs of heating.
Reduced evaporation loss.
Offer an additional space for gatherings with family and friends.
Prevent animals and children from falling into the pool
Open air swimming by simply sliding the retractable enclosure to an open position.
Time saving maintenance which means more time for pleasure.
Durable aluminum framework and polycarbonate retain their characteristics for years.
No need for opening and closing your pool each season
Elegant, beautiful addition to any yard.

Having too much fun – you may be late for work because you were enjoying your pool enclosure way too much to get out of the water!
Request a free project quote for pool enclosure now !