Sunrooms & Sunroom Ideas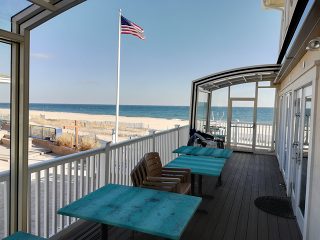 Patio enclosure Corso Horeca
Sunrooms are glass-and-screen-enclosed living spaces added onto homes to create a unique space. With the abundant amount of light they let in, sunrooms add beauty, value, and space to your home.
Sunrooms are designed with the idea of bringing elements of the outdoors, indoors. The additional sunlight and space they provide create an additional functional space for rejuvenation and relaxation. Sunrooms are also known as sun porches, porch enclosures, glass enclosures, or solariums.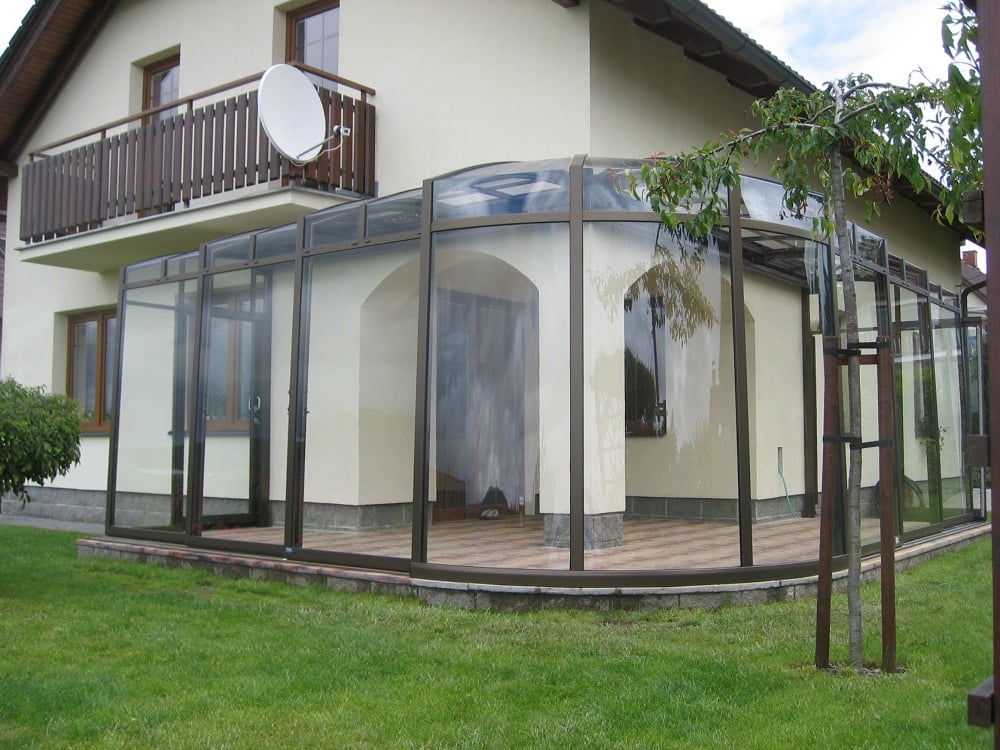 Reasons to have a Sunroom:
Added Value: Adding a sunroom to your home not only adds space but also brings in more natural light, beauty to your home, and increases your home's value. With extra space, the sunroom also provides added functionality to your home. Compared to building extra rooms onto a house, sunrooms are a much more cost-effective way to expand your home's usable space. Since sunrooms add to the overall square footage of your home, your overall property value will also increase.
A Unique Space:

Sunrooms create extra space for entertaining, working, exercising and playing. The versatility of sunrooms means you can use it for nearly anything you want. A natural party host? Make your sunroom the perfect place for entertaining guests. Host a Super Bowl party in the light of the outdoors, minus the cold. Throw a Thanksgiving soiree under the glow of the changing leaves without worrying about them falling into the food! Want to escape the chaos of the rest of the home? You can also turn your sunroom into a quiet, relaxing, nature-filled area separate from the rest of the house. Whether you choose to turn your sunroom into a play space, exercise room, greenhouse, or a space for entertaining, your sunroom can be decorated and changed to exactly what you want.
Dramatic Focal Point: Say goodbye to standard and hello to custom! Our sunrooms are available in a variety of styles and can be customized in many ways. Sliding systems allow you to customize your sunroom to your liking. Slide the enclosure doors open in the summer for better ventilation and close them in the winter to reduce the chill! Hosting a summer barbeque? Slide open the enclosure to create an open sitting space that opens up to the party outside! Our sleek, sliding designs allow you to easily maneuver your sunroom the way you want to.
Enjoy the Outdoors at Any Time: Love being outdoors? Sunrooms are designed to bring the outdoors, indoors! In addition to flooding your home with additional sunlight, you get a perfect view of the outdoors. Whether you plan on basking in the sunlight or spend evenings stargazing, a sunroom lets you enjoy the outdoors while remaining comfortably indoors. Lose the outdoor elements of sleet, rain, snow, wind chill and insects without sacrificing the activities you love!
Save on Energy: The additional natural light provided by your sunroom can cut down on overall lighting consumption. As an added benefit, the sunlight you gain through the room may help lower energy bills. Free solar energy not only contributes to lighting but can also contribute to helping heat the home.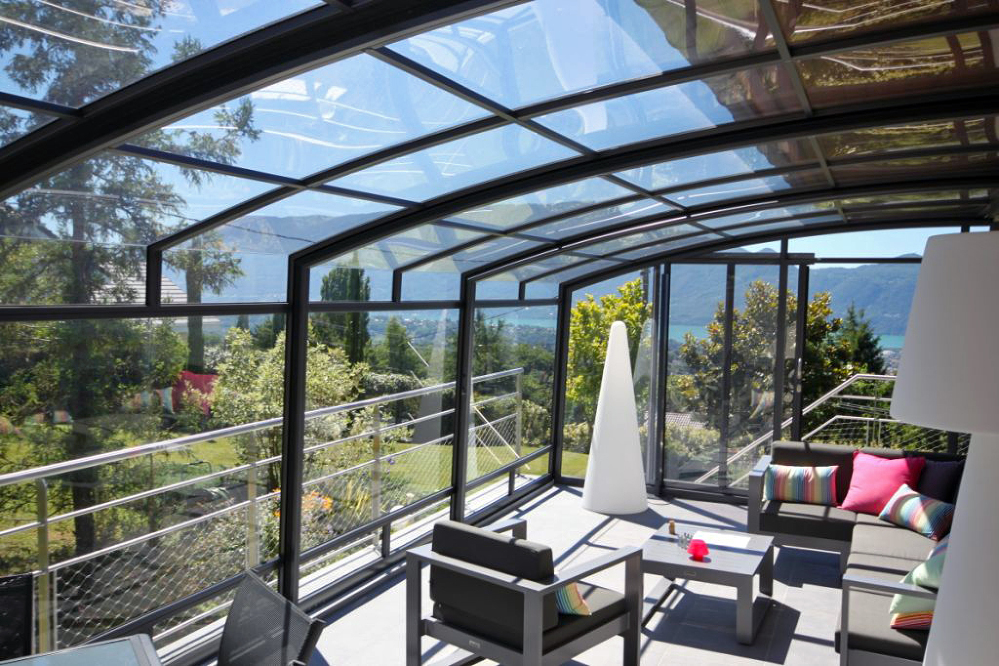 Have trouble deciding how to decorate your sunroom? Here are some decoration ideas & tips to help you make the most of your space!
Bringing plants into your sunroom adds vibrancy, color, and brightens the room. Most houseplants are easy to grow in a sunroom. For bright colored bloomers, try orchids, hibiscus, begonias, African violets, peace lilies, passion flowers, or Christmas cacti. If you prefer more greenery, try hanging plants such as Boston ferns or spider plants. In order to ensure that your plants thrive, make sure you understand their natural environment and mimic it as much as possible. Look out for factors like humidity, watering, and sunlight needs.
Want to test that green thumb even further? Use your sunroom to grow vegetables and herbs in your sunroom! These plants need about 10-14 hours of sunlight a day, good air circulation, temperatures between 60-75 degrees Fahrenheit, and minimal wind. Potted cherry tomatoes, basil, rosemary, thyme, green beans, and okra are good vegetables and herbs to test your skills with!
Choose furniture that suits your space. Know your design style and add textiles, colored pillows, and drapes to help transform the space into your personal oasis. Want to change your space to fit the season? Start with neutral based furniture in colors such as white or grey and swap out throws and pillows to your liking. Tie in your sunroom to the rest of the house by adding elements that tie in with colors that already exist in your home. Want to make your space seem bigger? Use mirrors to open up space and create the illusion of more room.
To make the most of your space year-round, consider installing a portable fireplace or heater so that you can continue to use your sunroom into the chillier months!
Tip: Save the wicker furniture for your outdoor patio. Using indoor furniture in your sunroom creates a more versatile space suitable for both relaxing or entertaining. By using indoor furniture, you also create a more seamless transition between the rest of the house and the sunroom, creating a larger living space.
Love working outdoors but hate the changing weather? Transform your sunroom into an "outdoor" office. Take advantage of the abundant sunlight and move your thinking space into a tropical office oasis. Let nature be your inspiration! Add elements such as curtains and blinds to provide privacy. Decorate with sun-loving plants to improve air circulation within the space and also add pops of color and freshness. Add a plush rug and alternative seating options to give yourself breaks and different spaces to think in!
Need a place to escape but don't want to leave your home? Change your sunroom into a private relaxation space. Adding elements that make you feel relaxed such as a hammock, candles, tapestries, or a mini library can help create a space for rejuvenation. You can also adapt your sunroom into a great yoga room! Take advantage of the natural light the sunroom provides to create a peaceful atmosphere!
Quick & Easy Guest Space:
Whether it's for a holiday or a special occasion, you may have family or friends staying in your home overnight. Need extra space? Consider turning your sunroom into a spare guest space providing you're in the right climate! To help make your guests comfortable, install curtains or drapes in your sunroom to allow your guests more privacy. If you don't want to designate your sunroom as a permanent guest space, it's helpful to have a couch that turns into a pull-out bed so you can easily transform your space to fit your needs.
Sunrooms are incredibly versatile and are able to adapt to many usages. Have kids? Turn your sunroom into a sunny playroom. Hosting a Christmas party? Bring in a portable fireplace and place quilts around the room to ensure your guests' comfort! To help you easily convert your space, choose furniture and furnishings that can adapt to a variety of events you may be using your sunroom to host.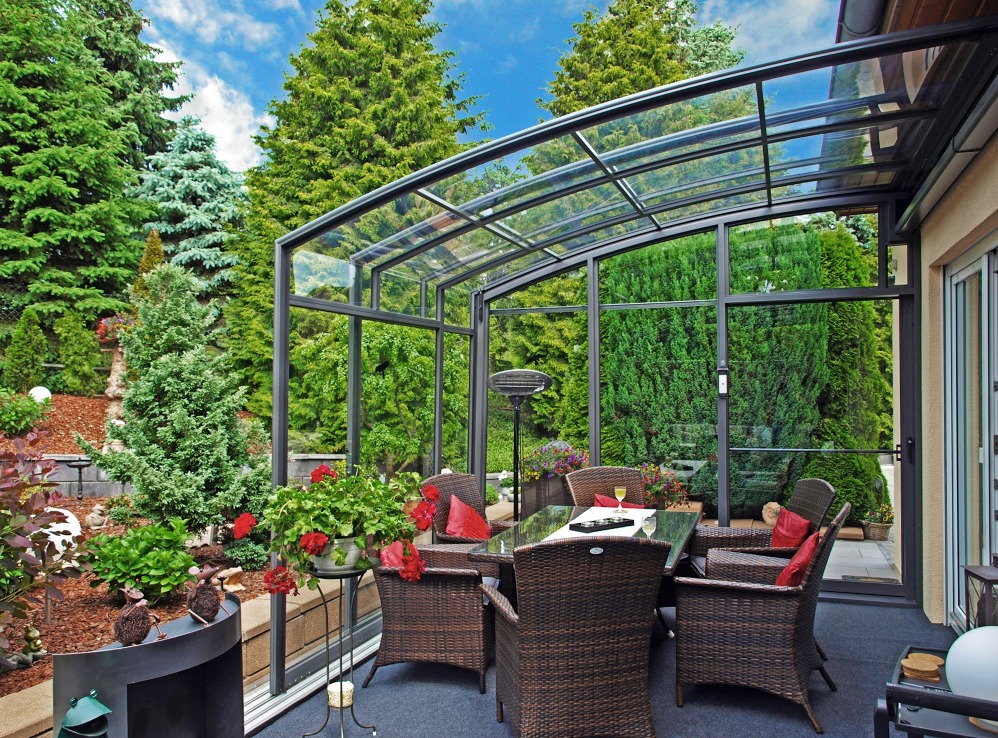 Dreaming about all the things you could do with a sunroom already? Check out our diverse sunroom selection and get a free quote today or contact us to get more information! Our products have won numerous awards, their quality and high functionality are emphasized by experts worldwide. We only use high quality and durable materials.