Solar Decathlon 2017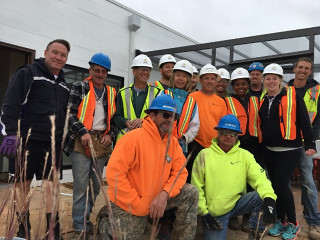 Solar Decathlon 2017 team
Last month we took part in the Solar Decathlon 2017 - a collegiate competition made up of 10 contests that challenge student teams to design and build full-size, solar-powered houses.
The winner of the competition is the team that best blends design excellence and smart energy production with innovation, market potential, and energy and water efficiency. It is run by the US Department of Energy in cooperation with Northwestern University and there is simply nothing else like it!
Solar Decathlon visitors tour Enable. Photo credit: Monika Wnuk.
The contestants who equipped their house, that they named 'Enable', with our enclosure won three medals! They received awards in 3 of the 10 contests at the Solar Decathlon: 1st Place in Market Potential, 1st Place in Communications, and 3rd Place in Engineering. And to top it all off, the middle school students who visited the competition also presented us with the Student Choice Award for "Super Awesome House" -- which we consider high praise, given that other teams had a foosball table and video games! How cool is that?

This was our first experience competing at the Solar Decathlon, and we learned a great deal.
We are proud of all we have accomplished and grateful for the experience to take such a deep dive into sustainability, energy-efficiency, and design. During debriefs back at home, many students have commented on how their experience has helped to refine their chosen paths in engineering, environmental journalism, or design, as well as grown their confidence in their teamwork and leadership.
Would you like to make your house more "Super Awesome"? Why not check out our diverse patio or pool enclosures selection and get a free quote today!