See Savings with a Pool Enclosure!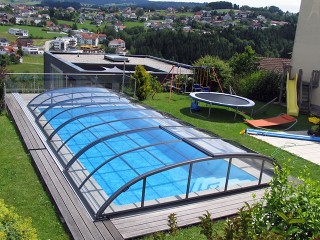 Swimming pool enclosure Elegant NEO
Everyone loves saving money! And with an Alukov high-quality pool enclosure, you get long term saving benefits by reducing heating, cleaning, chemical, and maintenance costs!
Just in time of the holiday season, see how you can reduce your pool costs and swim almost all year long.
Now is the perfect time to add an enclosure to your backyard!
Heating Costs
Our enclosures utilize polycarbonate filling to create a "Greenhouse Effect" in your pool. What does that mean? Two things: 1. Warm water even in cold weather! 2. You can cut your pool heating costs drastically!
Cleaning Costs
Whether you skim and vacuum your pool yourself or pay someone else to do it, cleaning your pool is time consuming and costly. We're here to help! Keeping your pool under an enclosure keeps debris, leaves, and animals from ending up in your water. We differ from a regular pool cover by allowing you to swim with your enclosure closed on most models! So you can swim on a windy day with your enclosure locked up tight to prevent pollen, insects, and leaves blowing into your pool.
Swim in comfort almost all year long!
Maintenance Costs
Here's a simple rule to live by: taking care of your things and you won't have to replace or repair them as often (ergo – you save money!). This works for pools and pool equipment, as well. Keeping your pool out of the elements means less chipping, cracking, and general wear and tear that you have to pay to fix. And with less debris and a good stable water temperature, your equipment doesn't have to work as hard, extending its lifetime.
Chemical Costs
There is a lot of chemistry that goes into keeping your pool just right. So it can be very frustrating when you lose water to evaporation and have to perfect that pH balance again and again. Our enclosures prevent water loss to evaporation which save you time and money on products.
The best kind of pool? A clean one!
If you like saving time and money, why not check out our diverse line of pool enclosures and find one that's right for your backyard? Don't have a pool yet, but thinking of getting one? Well that's actually the perfect time to get an enclosure to ensure the perfect fit to your sparkling new pool!
We're here to answer any questions to get your swimming in style asap!