Relax and Enjoy with Pool & Spa Enclosures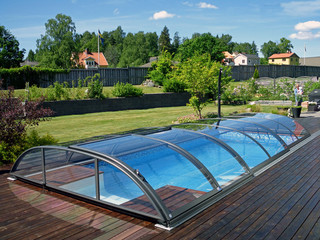 Zastřešení bazénu AZURE flat s použitím čirého polykarbonátu
Ever wish you could swim in your pool year round? Want to relax in your luxurious hot tub in the middle of a snow fall? Make your day dreams into a reality with Pool & Spa Enclosures, LLC!
We have a variety of retractable enclosures that allow you to convert your pool, spa or patio into an indoor paradise within minutes! Experience year round enjoyment with our fully retractable enclosures! Our elegantly designed pool enclosures let you, your family and friends enjoy your pool, spa or entertainment area throughout the year in any type of weather! Before we get started on picking out the best enclosure for you, we're going to take you on a little tour of what we have to offer.
Uses for Enclosures
With our enclosures, the possibilities are endless!
Swimming Pool
Spa
Hot Tub
Swim Spa
Gazebo
Patio
Sunrooms
Restaurant
Automobile
Walkways
Condo/Townhouse Cabana
Inside/Outside Banquet Cabana
Decks
Hotel Pools and Restaurants
Smoking Rooms
Golf Shelters
Outdoor Kitchens
Greenhouses
Game Room
Exercise Room
Don't forget, custom applications are available—let us help design your custom enclosure!
Overview of our Enclosures
Pools and Spas
We offer a wide range of swimming pool and spa enclosure models, colors of polycarbonate panels and design variations.

Our pool designs are divided into height categories: low, medium and high.

Our spa enclosures include: Dome Orlando, Sunhouse, Grand Sunhouse, Veranda and Corso.
If you are looking for an atypical design which is not shown on our page, just give us a call! We are ready to use our years of knowledge and expertise to suggest a suitable option for your needs and requirements.

Sunrooms
Our retractable enclosures can be used for areas of your home other than your pool and spa, such as a patio enclosure. Some options to choose from include our Style model which is in our pool line or our Veranda and Corso models from our hot tub and spa line.

Our modern design provides year round use of enclosed outdoors space in the form of a patio, sunroom, entertainment room, greenhouse or observatory!

The Facts
The polycarbonate panels allow the sun's rays in while providing good insulation properties for year round use.
The enclosures frame is equipped with a vinyl sweep that seals in the warm air and keeps drafts out, creating a warm environment and minimizing heat loss.
The polycarbonate panels protect your skin form harmful ultra violet radiation.
Enclosures are equipped with locking devices for each door to safely close and to guard against unwanted entry. A pool enclosure is not meant however to act as a replacement for a fence.
Leaves and bugs cannot get into your enclosure as long as it is closed. The enclosure's frame is equipped with a vinyl sweep that prevents outside elements from entering.
Enclosures are held to a track which is anchored to the ground. This allows for easy operation and added security form heavy snow loads or high wind.
Very little maintenance is required on the enclosure, but if you live in an area with lots of dirt or dust, then occasional cleaning may be required. This can be done easily by hosing it down with warm clean water or with a soft cloth made from 100% cotton, using a mild dish detergent solution and rinsing with warm water.
Ready to enjoy your outdoor space 365 days a year? Contact Us and find the perfect enclosure for you today—it's time to relax and enjoy!

"Like" us on Facebook for pool and spa care tips, photos and promotions!