Polycarbonate Panels vs. Glass - What's the difference?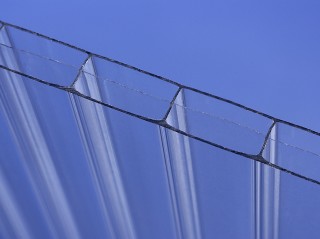 Transparent polycarb
If you've scanned our website or Facebook or Instagram or talked to one of our representatives, you know that we love talking about how great our polycarbonate panels are. We use polycarbonate instead of glass for our enclosures because the benefits go on and on!
Look at all of those gorgeous polycarbonate panels!
Polycarbonate is virtually unbreakable, flexible, lightweight, and weather resistant and protects against harmful UV radiation. Let's take a closer look at the differences between glass and polycarbonate so maybe, just maybe, we can get you as excited about enclosing your pool, spa, or patio in polycarbonate as we are!
Oh, polycarbonate, you're so strong!
10mm blue twin wall polycarbonate is unbreakable!
There's no denying, glass is classic. It's been around forever and completely revolutionized construction. At first glance, it might seem like the perfect material to put around a pool or hot tub because…you can see through it! But glass is also synonymous with "breakable". What if you could get all of the benefits of glass – transparency, aesthetically pleasing, classy – but make it 10 times stronger? Polycarbonate will never shatter and can withstand storms, snow, stray volleyballs, etc. To be specific: polycarbonate has an impact resistance 200 times better than glass. And while it is a much stronger material, polycarbonate is actually lighter than glass for easy maneuvering and installation.
Chill out – all year long.
Keep it toasty with the excellent insulation capabilities of polycarbonate.
We use a multi-wall polycarbonate structure that insulates so well that you can swim comfortably even in the dead of winter. Glass does its best to keep the cold out and the heat in, but at the end of the day, polycarbonate paneling insulates up to 60% better than glass panels. That insulation ability amplifies the greenhouse effect created by normal glass panels. Polycarbonate can soak up the sun even on cold or cloudy days just like a glass greenhouse but the improved insulation keeps the heat in longer so you can comfortably swim late in to the evening.
Let the sunshine in, not the UV rays!
Soak up the good rays and block the harmful ones!
Yes, glass can be adapted to block UV rays by adding a special chemical coating or screen but polycarbonate doesn't need any modification to keep your skin safe from harmful UV radiation. It blocks virtually 100% of UV rays so that you can rest (or swim) easy knowing that you and your loved ones are protected from cancer-causing radiation.
Let me brag a little bit more…
It even comes in multiple colors! Clear, light blue, milky, and brown.
The list just goes on, so on top of all of these features that make polycarbonate superior to glass, here's a few more our polycarbonate's specialties! The compact polycarbonate sheet features a special coating on the outside surface of the polycarbonate paneling that provides self-cleaning properties. These Easy Clean properties wash away any dirt each time it rains! That means way less cleaning time! It also has a high level of sound damping - up to 25 decibels. So let the pool parties rage on without worrying about disturbing your neighbors! And, last but not least, there are four colors of transparent/translucent polycarbonate available: clear, light blue, milky and brown. So you can choose the best color for your backyard aesthetic.
And THAT is why we love our polycarbonate panels! Are you thinking about getting a pool, spa, or patio? Or do you want to enclose a pool, spa, or patio you already have? Get a free quote today!