Peas in a Pod: Endless Pools and Pool & Spa Enclosures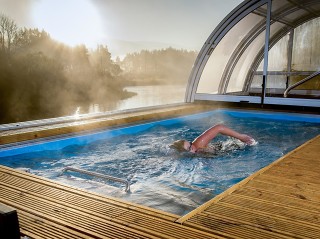 Pool and Spa Enclosures pool enclosure over Endless pools product
Our pool enclosures give our customers the best experience for a year-round pool season. And when our customers want a compact pool with the world's best counter-current for in-place swimming, they install an Endless Pool® swimming machine under our enclosure!
Endless Pools and our enclosures have much in common:
Fully customizable. Thanks to Endless Pools' modular design, you can customize the size and depth as well as choose from a range of options to suit your interests and abilities. That lets you adapt it to your space and needs … just like our enclosures!
Open year-round. The Endless Pool is compact and comes with a range of insulation options. And when it's under one of our enclosures, it's even more affordable to swim and play 12 months a year in any climate.
Easy maintenance. You can keep the water in your Endless Pool crystal clear in just minutes per week! Similarly, our enclosures use state-of-the-art technology to keep them looking beautiful, with no hassle, for years to come.
Since 1988, Endless Pools has installed more than 20,000 of their signature swimming machines in over 100 countries. That makes them a great fit for us – Pool & Spa Enclosures LLC is part of the IPC Team, the biggest worldwide network of pool, patio, and hot tub enclosure manufacturers!
To explore an Endless Pool under your Pool & Spa Enclosure, call them at 877-900-7820 or request a Free Idea Kit by visiting www.endlesspools.com.*
*The inclusion of external hyperlinks does not constitute endorsement or recommendation of said companies.