Indoor & Outdoor Pool Design Ideas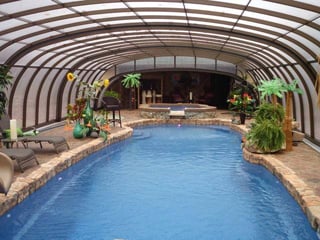 A swimming pool is one of the biggest backyard amenities homeowners invest in. They serve as a place to exercise, entertain, and unwind with family and friends.
In addition to adding a pool enclosure for year-round pool usage, many homeowners find that by turning the area around their pool into their own personal paradise, they can enjoy their pool so much more. The designs around your indoor or outdoor pool don't need to be extravagant. Simply adding a plant to the space can spruce it up. But hey, if you want to go crazy with design, don't let us stop you!
Featured Pool & Spa Customer Designs
Swimming Pools And Spas by New York Pools & Spas Pool & Spa Enclosures
Swimming Pools And Spas by New York Pools & Spas Pool & Spa Enclosures
Swimming Pools And Spas by New York Pools & Spas Pool & Spa Enclosures
Additional Design Ideas­­­
Use blue cushions on seating surrounding your pool to match the sky. – House Beautiful
Add palms surrounding your pool along with stainless-steel gazing balls for a tropical experience. – House Beautiful
Transform your pool into a backyard resort by adding water features such as a poolside fountain. – HGTV­­