Ideas for Your Backyard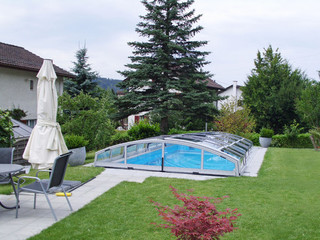 Pool enclosure IMPERIA fits well over every pool
Even though summer is coming to a close, your outdoor fun doesn't have to end yet! This fall, create your own outdoor getaway with these easy ideas for your backyard!
Create the Perfect Patio
Your patio doesn't have to be a slab of bare concrete with a few chairs and a table. Turn it into an extension of your home by mimicking the architectural style and color scheme of your home. Compliment your home and patio with shrubbery and perennial flowers to create a space to relax and enjoy the crisp fall air.
Cook Al Fresco
Summertime isn't the only time to barbeque! An outdoor kitchen is a great idea if you like to fire up the grill all year long. You don't need a fancy set up—a countertop for food preparation and cabinets for convenient storage are the perfect foundation for building your culinary laboratory. Add a refrigerator and sink for even easier preparation and clean up!
Define your Space
Outdoor structures such as a gazebo are another wonderful way to turn your backyard into an extension of your home. A pergola is also another way of creating an outdoor space for dining and relaxing. Accent your spaces with candles or a fire pit for a truly relaxing atmosphere.

It's time to relax and enjoy your home with the backyard of your dreams. Use your backyard all year long by enhancing your outdoor space with a pool and spa enclosure.

"Like" us on Facebook for more great tips and ideas!