How to Prep to Enclose Your Patio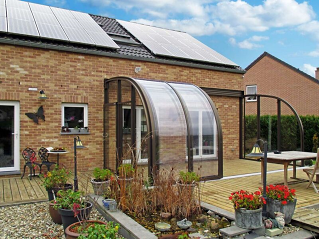 Patio enclosure Corso
Home improvement projects such as building and enclosed patio can be so thrilling but also quite daunting. Let us help you know where to start! We've laid out the steps you need to get your home ready for an enclosed sunroom or patio.
When you're done with this list – give us a call and let's get started!
Let's design your perfect patio
1. Building Permits
No, this isn't the fun part, but it is important! Make you sure you check your local building permit regulations before planning out your new enclosure. If you need help with this, we deal with building permits all the time! Don't hesitate to give us a call.
Black aluminum? Flat Roof? We've got it!
2. What are you covering?
Every home is different so there is no cookie-cutter covered patio space. We can work with whatever you have! If you have a house, apartment, living structure – we can help you make an enclosed patio space! Some people go for the traditional enclosed deck or ground-level patio. Others choose to cover a balcony, stick an enclosure in an alcove, or go big and cover around a corner of their house.
Really, there is no wrong answer. Each space is unique, so you just need to decide how big you want your enclosed space and what it will be used for. This will guide your decision and then we can take it from there! Have a look at our gallery for more inspiration and to see what we've done with other happy clients.
Don't see what you want? Get in touch with us and we can discuss your ideas and come up with the best option for you together.
Sometimes bigger is better!
3. Style
Ok, now you know where the enclosure will be and so it's time to choose your aesthetic.
First comes the shape. Do you want a domed roof? Flat roof? All of our enclosures come with sliding frames to allow for easy opening and closing, but you can also add additional windows to your patio for another ventilation option on a chillier day.
Then there are the colors! The panels themselves are made of polycarbonate. You can choose between:Clear (Transparent), Bronze Shaded Panels (Smoked) for privacy or Embossed (Translucent) for complete privacy.
No patio? We can enclose a balcony instead!
Then there's the aluminum frame which will serve as your accent color. Your choices are: Silver, White, Beige, Antique Brown, Charcoal, Cobalt and Wood-like finish. So are you a traditionalist? Maybe clear panels with white frame? Want some privacy? Picture relaxing underneath bronze shaded panels with a charcoal frame…can you see it?
If you need someone to talk it through with you – give us a call! We love talking design and color.
We've got a design for everyone!
4. Floor and Décor
You've got your permit figured out. You've chosen where this baby is going to go. You landed on the size and color. Now you need to decorate it! What are you enclosing? An outdoor breakfast nook? A hot tub? An art studio? A entertainment space? Again, there is no wrong answer here! Sites like pinterest can give you some inspiration. Another thing to consider is your enclosure's flooring. You're welcome to keep the concrete, wood, or other floor but if you want to have better insulation in the winter months, maybe consider adding a layer of carpeting or a more insulating wood. Alternatively, if you live in a warm climate, tiles are always nice and cool under your feet!
Garden all year long with your new enclosed sunroom!
Congratulations! You're well on your way to getting that gorgeous covered enclosed patio you've always wanted! Give us a call and let's do this!