Hot Tub Gazebos vs. Hot Tub Enclosures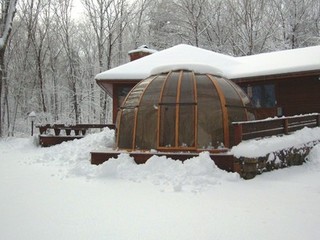 Snow on hot tub enclosure
Hot tub gazebos vs. hot tub enclosures – what are the pros and cons of each and which one should you purchase?
For homeowners who want to enjoy their backyards in a shaded area and can commit to the maintenance demands that come a long with them, gazebos can be beneficial. As far as the maintenance that's required:
Debris such as leaves and twigs need to be removed from gazebos' roofs. Inset nests, mold, and mildew should also be removed.
Every few years, gazebo owners may need to power wash, scrape peeling paint off and repaint or stain these structures.
With cedar gazebos in particular, in order to preserve their natural color, a sealer will need to be applied directly following assembly and again every two to four years.
Constant exposure to the sun can deteriorate canopies, which at some point may need to be replaced.
If you're planning on using a gazebo as a home for your hot tub, it's important to know that views from your hot tub are obstructed. It'll be difficult for you to fully see your backyard. Hot tub enclosures on the other hand, do the opposite and are virtually maintenance free.

Hot tub enclosures, such as the Oasis model, are equipped with roofs that can be partially opened. Views are not obstructed — through their polycarbonate that is clear as glass, users can completely view the area surrounding the enclosure. Polycarbonate creates a "greenhouse" effect that can be appreciated in off seasons. Since our enclosures are made from aluminum and polycarbonate, our hot tub specific enclosures don't require any maintenance. There is however is a con: you may enjoy it a little too much and won't want to get out!

Taking these pros and cons into consideration, you can now make an informed buying decision. If you decide to go with a hot tub enclosure, contact us for help with your purchase.