Customers Who Fell in Love … With Their Enclosure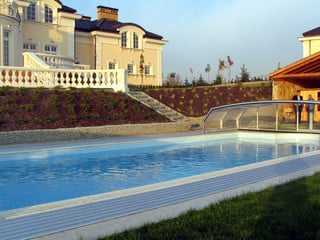 Pool enclosure OCEANIC increases water temperature
Every once in awhile something comes along that leaves an impression on us - something so wonderful that we can't get enough of it and can't imagine how we ever lived without it.
For many of our customers, that something is an enclosure – be it a custom pool enclosure, standard pool enclosure, spa enclosure, etc. Here are the stories a few of our customers who were introduced to one and never turned back. They "fell in love" with their enclosure.

Dennis & Gay's Pool Enclosure Fairytale
For years, Dennis and Gay from Maine talked about buying a second home in Florida for retirement purposes. They could not agree on to move or not to move. Gay did not want to be away from her family for long, while Dennis on the other hand did not seem to mind.

An alternative to leaving Maine for sunny Florida was to add a pool enclosure to the in ground pool they've had at their home in Maine since 1979. An enclosure would allow them to swim year-round as they could do in Florida. Dennis started researching enclosures, came across our company and spoke to our owner Alex. At first Dennis and Gay were hesitant to jump right in and do business with someone they only spoke to on the phone (this sounds like a blind date to us). Alex suggested the couple head over to Massachusetts to see one of Pool and Spa's installed enclosures. They did exactly that. While in Massachusetts, the couple also spoke to the homeowner's son.

"He told us how impressed their family was with the quality of the enclosure, the crew that did the installation, and the ease of how it [the pool enclosure works]," Gay noted in a testimonial she wrote to us.

On the couple's ride back to Maine, the topic of the enclosure was the center of a long conversation. They knew the enclosure would be an investment and it was the "invest" part they were worried about. After careful consideration, Dennis and Gay decided to dive in and purchase an enclosure. Dennis called Alex and the rest is history.

"We get a lot of – what is that dome thing, and, can we look at it?" Gay said. "We've shown our enclosure to so many folks we've lost track."

What do they most love about their enclosure? Gay said: The ease at which it moves and how clean the pool stays.

"Everything about the enclosure is as good or better than advertised."


Jennifer's Dream Came True with a Pool Enclosure
"I love to swim and my dream was [to own] a house with a pool and fully retractable enclosure to swim year-round," Jennifer said.

She researched enclosures from several companies for more than three years while she searched for an affordable permanent house in Northern Virginia. She spoke with companies with more expensive products than she could afford, and with companies with less expensive products - naturally with less beautiful design and colors options. And then, she found us.

"Pool and Spa Enclosures worked with me, not only to make sure the enclosure fit my pool and deck dimensions, but my budget," Jennifer said, whose enclosure saves her time, in addition to many other things.

"I have not had to empty the skimmer baskets of leaves since install. I switched from weekly to bi-weekly service. The technician put tabs of chlorine at a low setting and has not had to add any chemicals yet whatsoever in almost two months. The water is and stays cleaner. Inside is beautiful, like being at a hotel."

Jennifer enjoys her scenic view from the front of her house her backyard, too.

"The design is so attractive - it lends an architectural look. Visitors love it and just think it's cool the way it retracts completely off to the back of the deck. After a small dinner party a few weekends ago, to my surprise instead of retracting the cover, everyone wanted to sit inside!"

At Pool and Spa Enclosures, it's our commitment to make every installation a success. We guarantee the product and install.

"One representative wore a t-shirt about a winning team attitude and that is how I would describe Pool and Spa Enclosures," Jennifer added. She owns a Universe Pool Enclosure.


Despite His Friend's Doubts, Tony Couldn't Resist
When Tony from New York — a proud owner of our Universe Enclosure — told people he was getting a pool, they told him was crazy.

"The season is too short and you'll spend your weekends cleaning it," they said. Despite his friends' concerns, he went ahead and purchased a pool with an enclosure to go over it.

"With the enclosure my pool stays clean and warm." Tony said.

In addition, Tony loves the fact that with a pool enclosure he won't have to worry about his pool parties getting rained out — the enclosure keeps the pool closed. He also appreciates how easy it is to open and close — easier than a solar cover that's for sure.

On behalf of his family, he said:

"We are very satisfied with our enclosure, the quality of the product, the professionalism of the installers [at Pool and Spa Enclosures], and of course the attention to detail you [Pool and Spa Enclosures] paid during the design and ordering process."

He had his concerns, his friends had their doubts, but his pool and enclosure delivers.

"I was concerned about making a large purchase on the Internet, but the enclosure was delivered and installed when scheduled and is every bit as good as it appears in the videos and pictures!"

Are you ready to start a new relationship and fall in love with an enclosure, like so many others? If so, request a quote or contact us for more information.