Benefits of Enclosures in the Winter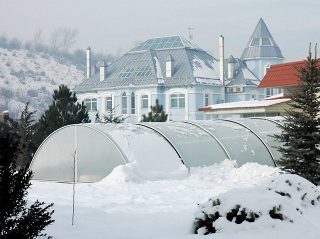 Swimming pool enclosure covered with snow
Swimming season is always considered as the summer. But what if we told you, it didn't have to be limited like that? With our pool enclosures, you can transform your pool into a 365-day per year paradice.
Check out some of the benefits that an enclosure adds to your pool during the winter!
Snow Barrier
No need to shovel snow off your pool cover anymore! During the winter, enclosures protects your pool from snow. The enclosures are made from sturdy polycarbonate panels that isolate the swimming pool from external snow and other weather conditions. Since the enclosures are high quality structures that cover the entirety of the pool, snow will not cause the enclosures to buckle. Whether you choose a low, medium, or high-line enclosure, all support and block out snow the same way. The enclosures also protect the pool from all kinds of additional harsh weather and debris.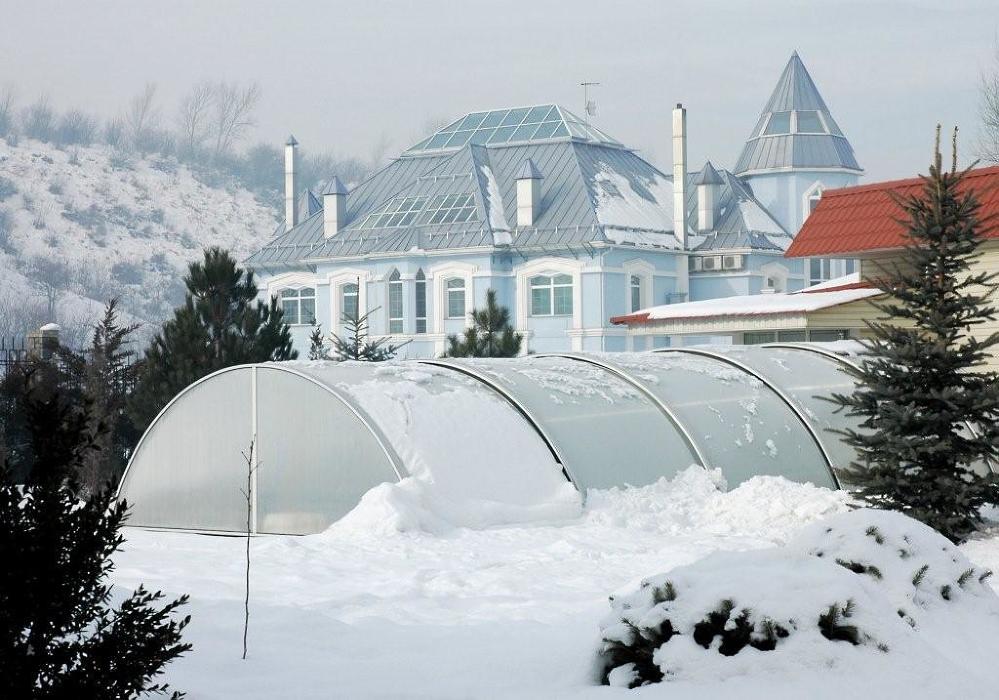 Wind Barrier
The enclosure also acts as a barrier to cold winter winds and keeps them from entering the swimming pool area. This allows you, your family, and friends to continue using your pool throughout the colder months! Pool enclosures are also very effective at trapping heat, thus making them the perfect addition to your winter pool party plans.
Save on Energy Bill
Pool enclosures help stabilize the environment within the enclosure through a greenhouse effect. The polycarbonate panels assist in trapping warm air and keeps the temperature within relatively comfortable as you have knocked out the outside elements. The heat within the enclosure is only maintained when it is completely closed. Through the greenhouse effect, the temperature of the swimming pool water is also maintained, meaning you don't have to heat the water every time you plan to swim.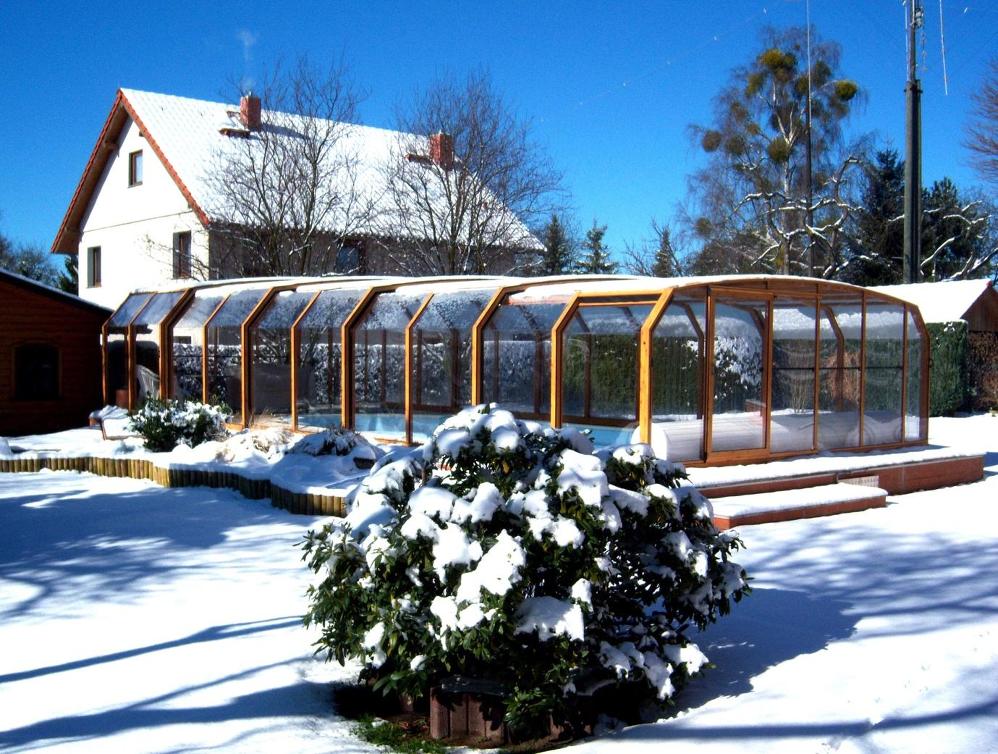 Extend your Exercise
Swimming is a common aerobic exercise. Since it provides a full body workout, you can keep yourself fit by swimming on a daily basis. A pool enclosure in the winter means you can extend your water-based aerobic exercises throughout the colder months! Extreme cold or hot weather conditions are not ideal temperatures for exercise as they could be dangerous for your health. With an enclosure, there is no longer a need for your body to acclimate to the winter chill each time you try to swim in the colder months. The stabilizing effect of the enclosure ensures that your pool will be warm for you to continue your training!
Filters out UV Radiations
As it gets colder, most of us stop thinking about our levels of sun exposure. While UV radiation levels tend to decrease a little in the winter due to the angle at which the sun hits the earth, the sun's rays can be just as harmful in the winter! A sunburn in the winter is possible if you aren't careful! The polycarbonate panels of the pool enclosure help filter out UV radiation, ensuring the swimmers inside are protected from harmful rays.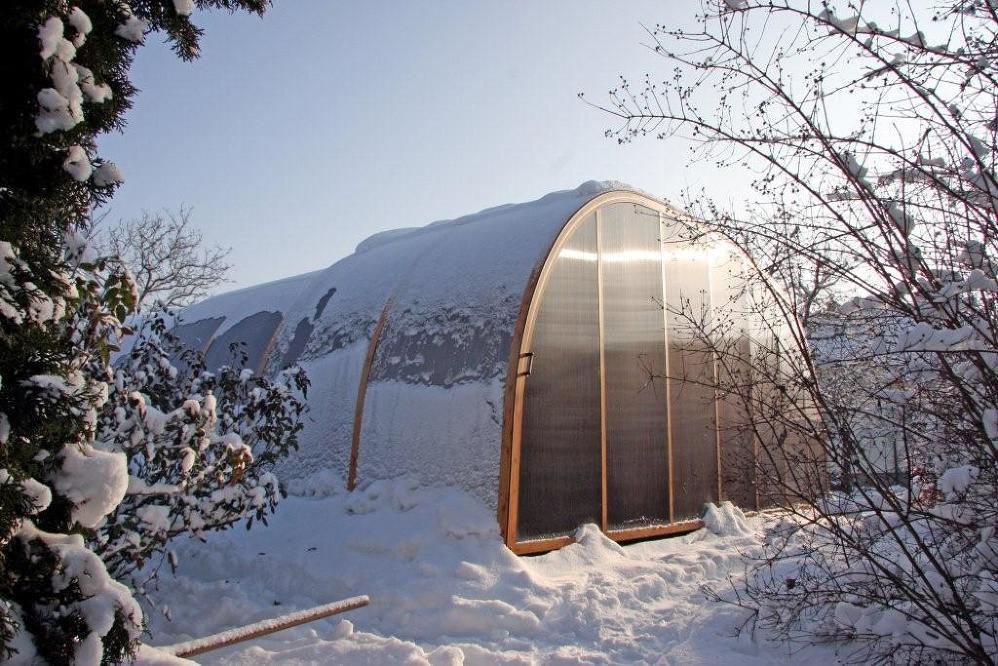 Less Chemicals
Most pool owners tend to add more chlorine and algaecide to pool water during the winter months if they use regular pool covers. This process of "mega-dosing" pools before closing them for the winter season is an attempt at slowing algae growth. With a pool enclosure, there is no need to close the pool for the winter. No additional use of chlorine and algaecide in the water also makes the pool healthier and safer for you and your family to use!
Closing/Opening
Balancing your water chemistry, adding algaecide, cleaning your pool, lowering water levels… and more! Closing and opening your pool every single year for the winter months is a lot of work and can be a tedious task. With a pool enclosure, there is no longer a need to open and close the pool every season. By using your pool throughout the entire year, you save yourself from work every year!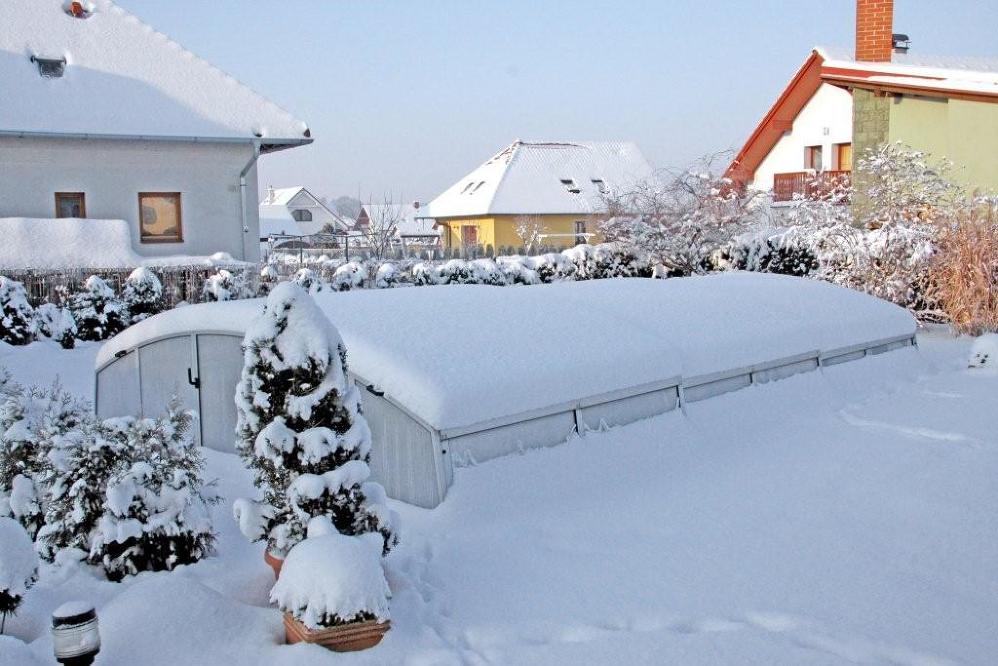 More Reasons to Get a Pool Enclosure:
Worthy Investment:
Pool enclosures are more cost-efficient in the long run. While they prove to be a bigger initial investment, the durability and reliability of the enclosures help reduce pool-maintenance costs in the long run. Compared to pool covers, which need to be switched every five years, pool enclosures are a one-time cost. They also help reduce costs by keeping out dirt and debris from the pool. The sliding structure of enclosures allows you to close the pool when it's not being used, thus prevent leaves, insects, and pollen to be blown into your swimming area. The protection the enclosures offer to the pool also helps its overall maintenance in regards to wear and tear. Lastly, enclosures also help reduce water evaporation and help maintain the levels of water in the pool!
Safety:
Pool enclosures provide the maximum amount of safety possible. Sliding doors with locks and other safety features help prevent children and animals from falling in. All enclosures can be retracted and locked to prevent unauthorized access. Pool enclosures fully prevent access to the pool, making accidents much less likely.
Customizable:
All our pool enclosures are customizable to match your wants and needs! Choose from a variety of heights, shapes, and sizes to match your pool and backyard. Have an irregular pool shape? Not to worry! Customized pool enclosures can be made to fit your pool!
Dreaming about swimming in the winter months already? Check out our diverse pool enclosure selection and get a free quote today or contact us to get more information! Our products have won numerous awards, their quality and high functionality are emphasized by experts worldwide. We only use high quality and durable materials.