6 Accessories You Need for Your Pool This Winter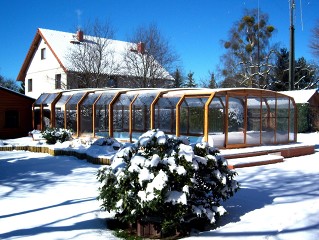 Swimming pool enclosure Oceanic high
We'll keep the water warm for you, but we also have a few suggestions to make your winter swims extra special. So get your Christmas wish list out because you'll want to write these down!
Yes, you could get an enclosure that stretches from your front door all the way to your pool, but sometimes that just isn't practical. So most of us will have to brave the chill on the long walk from house to enclosure. Luckily, modern science has provided us with this beautiful innovation – a super cozy robe. We like these ones from woolrich.com because they are fleece lined with a big collar to protect against drafts as you make a run for it back to the warmth of your home.
This, in my opinion, is the pièce de résistance. What could be better than taking a swim on a cold day and wrapping yourself in a towel that's been heated? Nothing beats that! With this electric towel warmer, you can have your towel waiting for you poolside heated to the perfect temperature to get you back to your house without a single shiver.
One of the worst parts of winter is the early sunsets. Depending on where you live, you could be looking at daylight disappearing around 4pm which can be completely demotivating when you're trying to keep exercising during the winter. When it's dark and grim, who wants to go for a swim? (It rhymes so you know it's accurate.) We found these amazing party lights for your pool to keep spirits up and your vision clear! They are floating light orbs for your pool that will change color so you'll be festive through till Springtime!
It's not what's under the tree that matters, it's who's on your towel. And there really isn't enough Christmas themed pool attire because not enough people seem to realize that all you need is a pool enclosure and your pool can stay open all year! We did manage to track down this adorable quick-dry towel from Amazon with the loveable Charlie Brown front and center. It's great for celebrating good tidings while splashing around in your pool.
Why put in the effort to make a wreath that need so many things – branches, glue, ornaments, a ribbon, probably other stuff – when you could just inflate one? This great inflatable wreath is perfect for jazzing up your pool for the holiday season with minimal effort.
Voted best floating pool speaker of 2017 by OuterAudio.com, these speakers are exactly what you need to blast Christmas tunes while soaking it up in your pool. They float, work with Bluetooth, and are described as having "jaw-dropping sound quality". With 8 hours of battery life, imagine how many times in a row you can listen to Mariah Carey tell you that all she wants for Christmas…is you.
So picture this. It's cold and dark out. You look out your window and there is a full-on lights party floating in your pool. You follow the lights, jump in, take a swim in comfort because your amazing pool enclosure has kept the water warm for you. Your heart is warmed by the inflatable Christmas wreath and the "jaw-dropping sound quality" of your Christmas tunes coming through the floating speaker. Then you get out of the pool – your Charlie Brown towel has been warming in your electric towel warmer. You're dry within seconds and you pop on your fleece lined towel to go back inside. That is the perfect way to swim in the winter, if you ask me!
Thinking of asking for a pool this Christmas? Already have one that you'd like to use year-round? Get a free quote on a pool enclosure today!